The 21st century is such a very fast and modern era in every aspect of life. In recent times, we used to discuss or share our things with our friends, colleagues, and teachers by using E-Mail conversations. 
We cannot deny the importance of a Leave Application still at this age. Because it is one of the best ways to send your message to your superior ones. 
Whenever you try to write a leave application or a leave letter, make sure your intention is to make an official request to be given a break from your workplace or from your school for a specific piece of duration.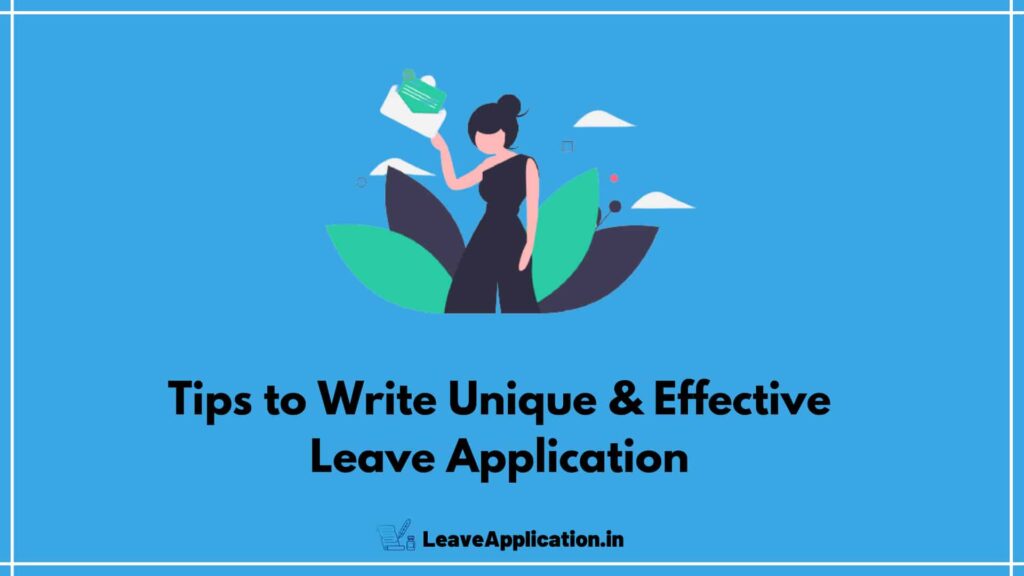 For the students, who are studying in any institute, college, or in any school, there are certain special rules they need to keep in mind while writing an application for leave. 
In doing, so, the letter or application for leave should contain the clear reasons and intent of break you are looking for. 
This is why, students who are writing an application should keep the focus on the exact intent, so the institution will not reject their application
Mentioning a genuine and logical reason in your leave application will put a great impact when it comes to its approval by the institute without any clarifications whatsoever. 
While writing a leave for application make sure to keep remembering three things which are high, being brief, sticking to your clear thought or point, and trying to convince the authority that whatever you are stating is actual and real. 
You should keep focus that your leave application should be correct grammatically. Whatever language you will use has to be very formal, do not be so casual with your mood.
Try to maintain a professional tone in your leave for applications so it will look more appealing.
In this article, you will get to know about the key writing tips, guidelines, and strategies to write a good leave application for School and College Principals, School Teacher, and your Supervisor.  
You will get the true factors step by step which you really need to mention in your application for leave.
In every situation, students must mention the genuine reason for taking leave clearly. We have multiple types of leave applications. 
How to Pen Down an Application for Leave in School or College?
The least public reason for writing an application for school one day or a few days' leave is an "urgent piece of work". 
While writing a leave for application due to illness, you should put a doctor's prescription with it to show the reality.
The other most observed reason for asking leave is going to outstation to visit the village, festival, relatives, family functions or going on any trip.
In addition, whenever you need to take leave for more than one day or maybe for a couple of days you should clearly mention the date duration properly in your application for leave. 
The other situation is, if you have taken some leaves already and in case you want some more, then you might have the right to write an application for your extension leave. 
Reasons and Importance for a Leave Application for School:
It is a proper and necessary method to notify the principal or class teacher that due to some reason student is unable to go for school classes for the next one day or for a week.
For a normal human being break from study or work is essential to relax. There can be many reasons of leave to take a short break from school.
For example, you have to write an application in these cases:
For going out somewhere.

For an urgent piece of work.

Visiting your native village.

For family function/get together/party.

Extension application.

To attend sister, brother, uncle, and relative's marriage ceremony.

For religious festivals.

Due to the death of any family member or relative.
A student forward its solicitation for getting leave from school for concerned days by submitting such a leave application to the headmaster.
Leave from school is an essential right of every single student. All the students should know the basic rules for requesting a leave.
Significant Tips to Compose One Day Leave Application for School:
Read these important tips and guidelines to write an effective leave application to the school principal.
To write an application for leave, you need to choose the best writing tool. A lot of content writing tools are available on the internet you can choose a wordpad online  to write your application positively.
The leave application is a formal letter. It is necessary to write it in a well-manner.
Write short and clear sentences. Do not drag your thoughts or sayings. 
Use proper greeting texts with decent mentioning.
Use the genuine reason for your leave.
Clearly write the exact date duration to request for leave.
Always put a thanking note at the bottom of your application.
Proofread your application for checking mistakes. You can use an online Grammar checker to exclude the grammatical mistakes.
Points to Keep Under Consideration While Writing a Leave Application for School in English:
Use simple words in your application.

To start your leave application be in the formal attitude.

Do not use harsh language.

Do not feel puzzled while asking for leave.

Always write your leave application on just one paper.

Focus on the actual format of the application.

Do not do grammar, spelling, or punctuation mistakes.

Try to write your reason in first paragraph, and in the second one request for the leave.
Eluding:
Do not write informal words.

Always write your application for leave on a single paper.

Do not write the over things in your leave letter on paper.
Necessity including in School Leave Letter:
Given are main things must include in your leave application for writing a best application for leave.
Greeting.

School address.

Topic of your application.

Motive of required leave.

Mention the date duration.

Thanks note for leave approval.

Your actual Address.

Current date.
Final Words:
I hope, all the students have gone through all the tips and tricks to easily write a unique and effective leave application.
Students can get help from this article while writing their leave. 
Do let us know if you really find this article helpful?
---