Leave request mail to manager for vacation: Everyone likes to go on a long vacation out of this daily busy life. Also, many people take this kind of leave due to their personal problems or to go to their hometown.
For this situation, we need to take a few days off. So, you have to write your leave application and as a reason, you have to write about going on leave. You also need to enter the correct information about exactly how long you want to leave.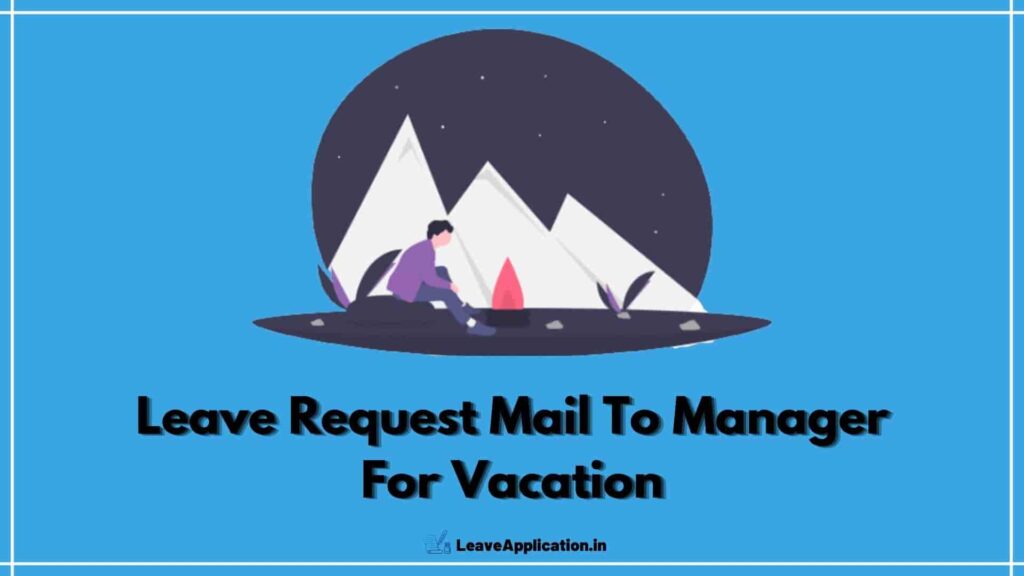 If you are looking for this type of vacation leave application or if you want to get a sample of this type of application letter or mail then you have come to the right place.
Read Also: Leave Application For Urgent Work
Leave Request Mail For Vacation
Subject- Family vacation leave application.
Dear Sir/Madam,
I am writing this application to request you for approving an ____ [Write the number of your total holidays] day planned leave vacation. I am going to ___________ [Mention the name of the place you are going to visit] from _____ [Start Date] to ______ [End Date] with my family.
I feel confident that my teammates will be able to carry on the work during my absence. I hope to get back your quick response.
Thank you for considering my planned vacation leave application mail.
Sincerely,
[Your Name].
---
Request For Vacation Leave Email
Subject: Leave request mail for vacation.
Respected Mr./Mrs. (Recipient's Name),
I am composing this mail to let you inform that, I have fixed my decision for annual vacation leave as I am eligible according to department leave policy.
I need your kind consideration to accept my leave application for ______ [Write the total number of days] days from _____ [Start date] to ______ [End date] because my son is coming from abroad and I have planned a vacation to visit ________ [Mention place name] with my whole loved ones.
I have completed my all working tasks and also handed over the office charge to _______ [Mention your co-worker's or colleague's name]. Hand in taken over charge certificate is attached. There is no deficiency observed during the process.
if you have any questions, please feel free to contact me directly. Looking forward to your positive response.
Yours Sincerely,
[Your Name].
---
---
Leave Request Mail To Manager For Vacation
To: ______ [Manager Mail ID]
From: ______ [Your Mail ID]
Subject: Request letter for vacation leave.
Dear Sir/Madam,
With due respect and humble submission to state that, I am planning a small [trip/vacation] and will be using ____ [Write the total number of days] of my vacation days. I will be gone on ____ [date or date-range]. I am letting you know as far in advance as possible.
During my absence, My colleague's ________ [Mention your colleague's name] will cover for me and will temporarily assume my duties.
Thanks in advance for your consideration of this request.
Best Regards
[Your Name].
Read ALso: Application For Advance Salary
---
Sample Letter For Vacation Leave Approval
To,
The HOD,
[Company Name],
[Address],
[Date].
Subject: Leave application for vacation.
Respected Sir/Madam,
At this time, I would like to put in my request for one week's worth of vacation that would run from ______ [Start date] to ______ [End date]. My family and I would like to spend the Thanksgiving holiday with our extended family back east and we need to start making arrangements now in order to make the trip as comfortable as well.
If any clarification or follow-up from me is needed in this matter, please do not hesitate to contact me by email at the address already provided above, or by mobile at _____ [Mention your mobile number]. I look forward to your response and thank you for your consideration.
Yours sincerely,
[Name].
---
---
Vacation Leave Letter For Family Matters
Subject – Request for vacation leave.
Dear [Recipient Name],
I would like to inform you that I am planning to take my annual leave from _____ [start date] to ____ [end date]. It was long due and now it is important for me to be there with my family and loved ones' on this special occasion.
I have checked with my colleagues to make sure that everyone is available in that period, but further verification from your side would be optimal.
I need to start preparing, so I will be really grateful if you can give me the green light at the earliest. Your consideration concerning this matter is highly appreciated.
Thank you very much in advance.
Best Regards,
[Your Name].
Read Also: Leave Application For Brother Marriage
---
Vacation Leave Mail To Manager
Subject – Request for vacation.
Respected Sir/Madam,
Most respectfully, I would request you to grant me leave from ______ [Start Date] to ______ [End Date]. I require to leave on the mentioned dates as I am looking forward to go on a vacation.
I have not availed any leaves from the past few months. I do not have any work pending from my side and will hand over my responsibilities to the concerned colleague/authority to handle, in my absence.
Once again, I request you to sanction the leave.
Best Regards,
[Your Name].
---
---
Rejoining Mail
[After returning from vacation, you can write this mail to your boss or manager.]
Subject- Rejoining Mail.
Dear Sir/Madam,
Hope you're having a great time at work.
I am writing this mail to inform you that I am ready to join on ________ [Write your joining date] again. As you know, I was on my long vacation leave starting from __________ [Mention the date of the day you started taking leave] till _________ [Mention the date of the last leave day]. 
I intend to get back to speed up my position. Once again, thank you for your fortitude. I'm privileged to be hired by a corporation such as ours and I look forward to getting back to work.
Yours Truly,
[Your Name].
---
One of the most popular leave request mail sample for vacation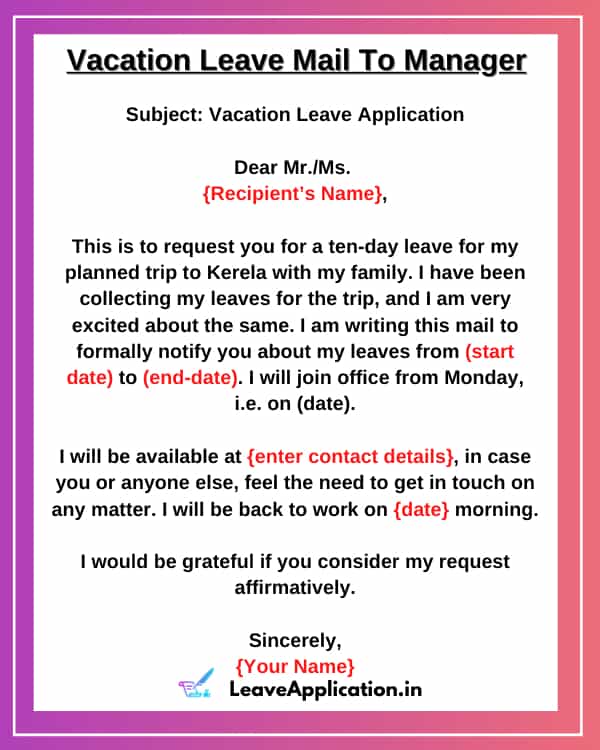 [CLICK HERE] to download this Image & PDF.
---
---
Tips For Leave Request Mail To Manager For Vacation
Follow the steps below to properly approve your vacation leave –
Firstly, read the policies of your company or organization correctly. The reason is that some companies require you to apply for leave a few months or weeks in advance. And the whole process of how to submit your request is also given there.

Before writing the vacation letter, check with colleagues, or any other partners who will be affected by your absence, for their plans and see if they can help you take care of your tasks for the time you are not available. Make sure you also inform those who may be in trouble, such as partners or customers.

There are a few companies that offer this form by filling out an online form, but the number of such companies is minimal and most companies complete the entire process via email.

Make sure your leave request is complete with your dates of vacation and mention specifically it's for vacation purposes.

Try to write these kinds of letters in a sincere and polite way.

If your added content has grammar and spelling errors, then check and correct it.

You can write a rejoining letter a few days before you return to work.
Most Recommended Posts-
---