A professional leave application is the most appropriate way to seek permission for leave. There are a plethora of reasons behind it. You may be tired of daily office work and you need a few days' breaks, or you a sudden emergency came out of the blue and you need leave to cope with it.  
Organizations have their own set standards to ask for leave. Some employers require an email while others demand a written application.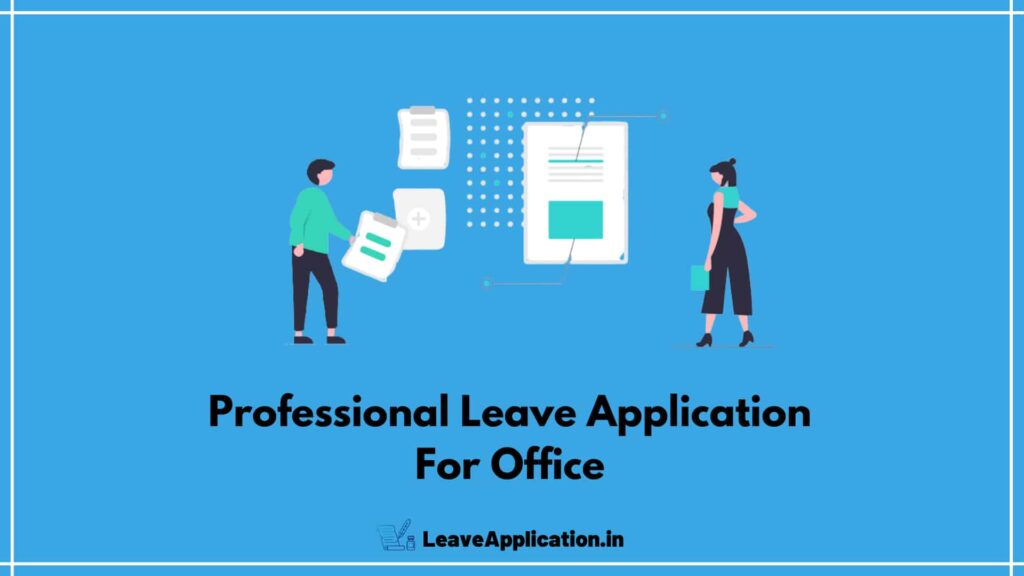 However, the basics of each professional application contain the receiver's name, salutation, subject of your application body, and ending remarks. Apart from the context of your application, you need to take of its quality. It means you need to choose the right words without grammar mistakes. 
This article will teach you how to write a professional leave application that gets approval from your employer. 
Why you must intimate your boss through a leave application?
It would have been much more convenient if you just drop a message or DM your manager that you aren't not coming tomorrow. 
But that's not a good practice in a professional environment. There are a lot of reasons behind an application:
Organizations want to maintain decorum with a set of protocols, otherwise, there would be hustle and bustle in the office.

It's easy to keep track of an email or a printed application rather than a casual message. 

When everyone is bound to follow a set of rules, office workflows become streamlined and smooth. The same goes for application writing.
Nevertheless, you should know to whom you want to send the application and whether you are entitled to enjoy this privilege or not. 
Because sometimes, you have spent your spare leaves and you can't take a single one in the month. In that case, you must know the pros and cons of taking a holiday.
With that said, some employers do not demand an application. Well in that case, if you tell your boss through an application, you certainly create a good impression of yourself.
Key takeaways for a professional application:
Understand the way of communication:
In offices there exist a hierarchy of roles. You have to find the designated person to address your issues. Suppose, you want to talk about your job's appraisal.
You would meet the HR manager instead of talking to the peon. So, before writing a professional leave application know the right person to whom you will send your application.
You are writing an application because you need to get it approved. So, for fast approval, you have to find the best way to send an application.
 Printed applications are kind of outdated. Now offices follow emails or have created social groups for employees.
 Whatever, communication channel you deem essential, you need to have a suitable online notepad where you can easily write, edit and format your application.
Avoid any irrelevant discussion:
An application is a one-way communication, unlike a letter. It is just meant to seek permission or grant favor. You do not expect a reply to your application. So, it's either accepted or rejected. 
So, you must avoid going off the topic while addressing your issues. Otherwise, your boss may really get pissed off. HR wants to know the exact reason for your application.
So, don't try to convince him/her as if you are selling anything. Keep it simple and to the point.
Write your application flawlessly:
Your writing has to be crystal clear as if you are discussing your application verbally. Your employer does not take the task to decipher your hard written words.
HR may read if it's understandable and free from any grammar or spelling mistakes. On the other hand, he may reject your application if it does not make sense to him/her.
Thus, you have to take immense care while writing. You may use a grammar checker if you find it hard to proofread your application by yourself.
Follow the exact pattern of an application:
You may easily find a template of your application online if you don't know how to write it. Globally, an application follows the following points.
Receiver's name and credentials.

The subject of your application.

Salutation like honorable, respected, dear, etc.

Starting remarks, body( reasons and duration of leave), ending remarks.

Your name and credentials.

Date.
Your office may change the pattern a little bit, otherwise, that's the basic structure of an application. You can also consult your HR manager about this.
Final words:
A professional leave application is bound to get approved because it is written keeping the best standards in the mind. These applications are understandable, well-formatted, to the point, and free from any error.
The above key points provide deep insights to write a professional application. Read them out and create a wonderful understanding.
---