Writing a leave application is not a difficult task unless you have to follow a fixed template. Most offices and institutes demand their employers to follow a specific style to write an application.
It is hard for a person to stick with a style especially when he had written an application in another style. Also, you can't copy anyone's application because it will leave a bad impact on your personality.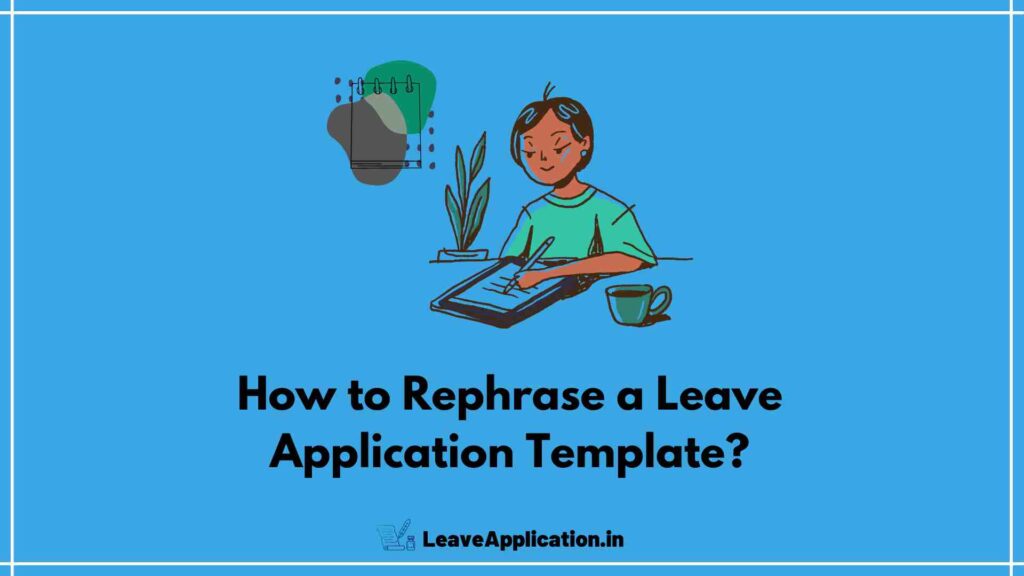 This is where you will find rephrasing important to write your leave application. This blog will help you in understanding how to rephrase your leave application template even when you don't have written by following a template.
What is a Leave Application Template?
Before guiding you, let us tell you what a leave application template is. It is a particular design of writing an application set by the authorities of the offices and institutes. The department which collects such applications demands the employers to follow that design for submission.
Many people have faced problems like leave application rejection just because of the irrelevant template. So, you should write your application in the given template to avoid any unexpected conditions.
But the main problem is that you can't copy someone's application while following a template. It means you have to follow the template but not copy anyone's words. Let us show you the tips to rephrase your applications without feeling hard.
How to Paraphrase the Leave Application?
There are two main methods following which you can easily rephrase your application. Here we are going to describe them briefly to make them understandable.
Method 1: Rephrasing Manually
If you have ever dealt with the writing field, you must have heard about it. Mostly, people prefer to rephrase other writers' content to make it unique and present it as their own. But how can you do this and rephrase your leave application?
To do so, you can follow a specific method. First of all, you need to read the original text to know its intention. It will help you in understanding the meanings of the text and rephrasing it without mistakes.
Once you have understood the text, you only need to rephrase it in a specific way. You can proceed with any of the following tips in this regard.
Replace words with their synonyms

Change the structure of the sentences

Reverse the voice of the sentences

Try to write them with a different approach
No doubt, you can rephrase an application using the above tips. But the main problem is that you have to be proficient in the language as well as have enough time to do so. If you are facing problems in this regard, you should proceed with the second method.
Method 2: Rephrasing with a Tool
If the above method is not very suitable, you can use a rephrase tool for the same job. Not everyone is proficient in the language to rephrase the application. This is where you will find this method pretty beneficial to make your application unique. Taking help from a rephrasing tool is neither a difficult task nor creates problems.
You can easily access these tools with the help of your computer. These tools have been designed with an algorithm that understands the given text and rephrases it. At the end of the process, you will get the text with unique words that have been added in place of the original terms.

By using a rephrasing tool, you can save the time and effort that you have to invest while rephrasing manually. To use an online tool, you only have to insert the text, click on the button, and copy the new text. It is simple enough that a beginner who has not used online tools can rephrase with the help of this tool.
Final Words
In the above blog, we have shown the ways to rephrase your leave application template without feeling hard. It will not be a difficult task when you are using an efficient and reliable rephrasing tool.
The reason is such tools have a user-friendly interface that makes them perfect for all. As a result, you can easily submit your application without feeling fearful.
---