An academic paper is a research document published by a scholar. The purpose of this is to present your findings on a particular topic among the experts in the field.  It is equally important for both students and researchers.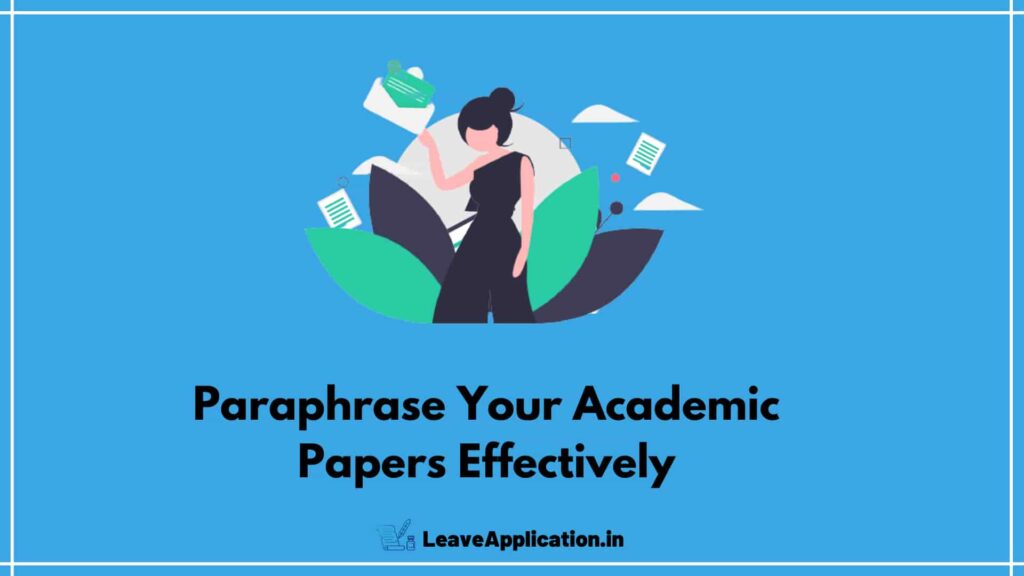 Students write it to acquire a professional degree while scholars write academic papers to establish their careers. 
Writing Pattern of an academic paper
An academic pattern isn't your normal blog post. It follows academic norms and referencing patterns having worldwide acceptance. 
The basic format for APA style academic paper is as follows:
It starts from the abstract.

 After that, the writer raises a problem.

 To establish the authenticity of his raised problem, he reviews the previous literature written around his point of contention. 

In the 4

th

step, a researcher develops a methodology for experimentation.

The experimentation gives observations and key findings

Based on key findings, he draws his conclusions.

At end of the paper, he gives an appendices list of all citations
Paraphrasing in Academic Papers
Paraphrasing means rewriting another person's opinion in your own words. It is among the key skills required to write a critically acclaimed research paper. Doesn't matter how much time you have spent on research, if you can't present it well, your work can go down the drain.
As per La Trobe University, paraphrasing is needed in the following circumstances
It is used while referring to another source in your academic paper. In that case, you need proper citations

Paraphrasing is required while using a variety of indirect quotes on a particular topic

Paraphrasing can be used to show your knowledge about a subject. In this case, you have to present previous research in your own words with a proper explanation of your points
We recommend every academic learn this skill.
How can you paraphrase academic papers effectively?
The previous section has established the importance of paraphrasing. But we have t realize that quality rewriting requires vocabulary, sentence structuring, paragraphing, linguistic, and writing skills. Most researchers are not good at writing.
To solve that puzzle, we suggest you consult a paraphraser tool. These are online tools that can rewrite any academic paper while maintaining the same context. The rewrite is unique, carrying better text quality as well.
Here's how you can paraphrase an academic paper with a paraphraser.
Selection of Desired Paragraph
In the first step, you need to choose the academic paper data which you want to rewrite. This would serve as your input to the tool.
To show that in practice, we have selected the following paragraph.
"Only expertly written email makes it through busy executives' filters and reaches its destination. The copywriters at Business Content have years of experience creating engaging, must-read copy that produces outstanding response rates for an affordable investment. From subject lines that grab a reader's interest to offers that generate interest and create urgency, our email strategy gives you measurable results. Increase your open and click-through rates, get your email forwarded and enjoy more sales with email marketing campaigns that engage your customers fully.

The advantages only increase in successive mailings. We employ analytics to gauge the success of each mailing."
Selection of a Quality Paraphraser
In the 2nd step, you should choose a quality paraphraser. An Academic paper is written in sequence, any missed point is detrimental to your research.
The market is congested with so-called rewriters, but most don't care about rewriting every minute detail. Therefore, you need to select an efficient, accurate, and reliable rewriting tool.
Based on the above criteria, we have chosen paraphrasingtool.ai
Input the academic paper paragraph
After deciding on the tool, now you need to feed the paragraph to your tool. It can be done either by simple copy-paste or by importing the whole file. This input should be meaningful so that the tool can generate a quality rewrite.
In our case, this is how the input appears.

Choosing the right paraphrasing mode
 The efficient rewriters can paraphrase in different modes.  The modes can perform keyword substitutions, sentence restricting, paraphrasing, and overall rewriting. The choice of mode depends upon user-requirement. 
Since it is an academic paper, we will be using "Text Improver mode" which is the most advanced setting of our tool. 

See above, the model has been highlighted in red color.
After choosing the required setting, simply click on the paraphrasing command. The tool would start working. After a few seconds, you would get your desired result: an alternate copy of the academic paper.
The rewrite is unique, no plagiarism checker can detect it. You can use this superior-quality version in your academic paper.
This is how it appears in our example:
The right window shows the output. It looks like this in text form:
"Only expertly written email breaks through the filters of busy executives and reaches its destination. Business Content Copywriters have years of experience creating compelling, must-read copy that offers excellent response rates for an affordable investment. From subject lines that capture a reader's interest to offers that generate interest and create urgency, our email strategy gives you measurable results. Increase your open and click-through rates, get your email forwarded, and get more sales with email marketing campaigns that fully engage your customers. The benefits only increase with subsequent consignments. We use analytics to measure the success of every mailing"
The highlighted red shows the alterations made to the original text. You can see that the text has become better. The paraphrasing percentage is 25%, and you can increase it by further rewriting or using another paraphrasing mode.
This is the method that you can use to rewrite any academic paper.
Read Also:- Request Letter For Degree Certificate
Final Words
An academic paper is to an academic what a crown is to a king. Unless you write a quality research paper, you can't earn respect in academic circles. To write a quality paper, we recommend you utilize a paraphraser.
The paraphraser can give a professional outlook to your original draft. So that you can publish it in notable journals without the fear of rejection. This blog post teaches you how you can use this tool to rewrite your research paper.  Do yourself a favor and try this simple method to ace your academic paper.
---